Systemic Risk Centre Event
Date: 28th October 2022   Time: 09:00 - 14:30 BST   Venue: Conference room, 1.06, Marshall Building, LSE (map)
Organisers: Brunello Rosa (Rosa & Roubini Associates, Bocconi University, SRC/LSE), Jean-Pierre Zigrand (SRC/FMG, LSE)
Speakers: Piero Cipollone (Banca d'Italia), Tony Craddock (The Payments Association), Kunal Jhanji (Boston Consulting Group), Igor Makarov (LSE Finance), Cyril Monnet (University of Bern/Study Centre Gerzensee), Brunello Rosa (Rosa & Roubini Associates, Bocconi University, SRC/LSE), Hyun Song Shin (Bank for International Settlements), Paul Sisnett (Satellite Moving Devices Group)
Photos
Please find below a few photos from the event. For a wider selection of images, please visit our Flickr page.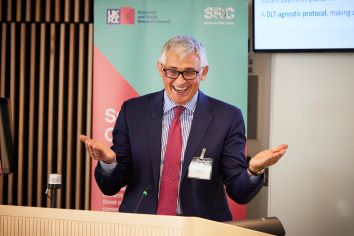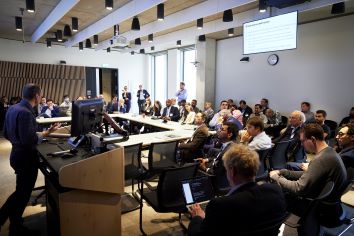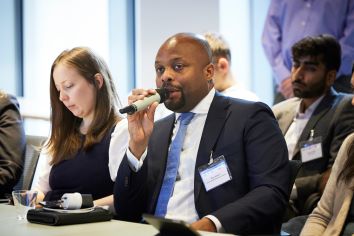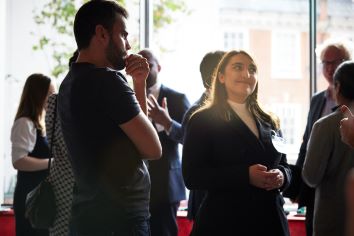 Central Bank Digital Currencies (CBDCs) have been at the centre of Central Banks' attention since the emergence of a wide array of digital assets, and chiefly crypto-assets and stablecoins. These new digital assets can present features such as "programmability." Central Banks justify the introduction of CBDCs as a mechanism to provide a safe asset in the digital wallets of the wider population when cash will have disappeared. But some fear a severe impact on people's privacy. Other concerns regard the potential impact of the introduction of CBDCs on the implementation of monetary policy and financial stability. Also, financial institutions fear further dis-intermediation of their activities. Underlying this, there are geopolitical motivations that will be explored during the conference.
Programme
To access the slides for each presentation, click the title of the talk.
Registration and refreshments
CBDCs - Motivations, Technical Background and Design Issues
Chair Jean-Pierre Zigrand (SRC/FMG, LSE)
Technical background: crypto, stablecoins and CBDCs
Paul Sisnett (SMDG)
Implications for Policy and the Banking System
Chair Brunello Rosa (Rosa & Roubini Associates, Bocconi University, SRC/LSE)
Speaker biographies
Piero Cipollone (Deputy Governor, Banca d'Italia). Member of the Governing Board and Deputy Governor of the Bank of Italy from 1 January 2020 (Presidential Decree of 10 January 2020). In this capacity, he is also member of the joint Governing Board of the Insurance Supervisory Authority (IVASS). Dr. Cipollone has authored and co-authored many articles and papers on trade, labour economics and education economics, published in a variety of academic journals, including American Economic Review and Journal of the European Economic Association. He has taught at both the Luiss University in Rome and the University of L'Aquila, and in 2001 he was visiting scholar at UC Berkeley.
Tony Craddock (Director General, The Payments Association). Tony conceived and launched the Payments Association (EPA) in 2012. The EPA promotes the UK as global hub for payments innovation and the interests of the EPA's 150+ members, which include banks, card schemes, PSPs, issuers, processors, acquirers, who all come together to drive collective industry change. A serial entrepreneur; Tony invests in many early stage payments and PayTech companies – enabling them to succeed in a highly competitive payments ecosystem.
Kunal Jhanji (Managing Director and Partner, Boston Consulting Group). Kunal is a core member of Boston Consulting Group's Financial Institutions practice. He leads BCG's payments work in the UK and is a member of the firm's Transaction Banking and Payments management team. He has extensive experience working on payments topics with banks, core payments providers (schemes, acquirers, PSPs), and non-banks (regulators, merchants, fintechs). Prior to joining BCG, Kunal was a management consultant at Oliver Wyman, EY, and Deloitte. At Wyman, he was COO for the European payments practice, and he also served as head of policy for the Open Banking Implementation Entity, UK, while on secondment.
Igor Makarov (Associate Professor LSE). Igor's research covers theoretical and empirical topics in capital markets. Dr. Makarov has published in leading academic journals, including the Journal of Finance, the Journal of Financial Economics, and Review of Financial Studies. Dr. Makarov has won several professional awards, including the 2007 Crowell Memorial Prize (second place) for his work on sources of systematic risk and the 2012 NASDAQ OMX Award for his work on the CDS auctions. He received his M.Sc. degree in mathematics from the Moscow State University, an M.A. degree in economics from the New Economic School, and a Ph.D. in finance from the MIT Sloan School of Management.
Cyril Monnet (Professor of Economics at University of Bern and Program Manager Doctoral Courses at the Study Center Gerzensee). Cyril received his PhD in Economics from the University of Minnesota (USA), his MPhil and Master in Economics from the University of Essex (UK) and his BA from the University of Geneva. He has previously worked as an Economist and Senior Economist in the Research Department of the European Central Bank, and as a Senior Economic Advisor and Economist in the Research Department of the Federal Reserve Bank of Philadelphia. His research focuses on monetary economics, financial intermediation and the design of financial institutions.
Brunello Rosa (CEO Rosa & Roubini, Visiting Professor Bocconi University, and Research Associate at SRC/LSE). Brunello is a geopolitical macrostrategist with extensive policy experience working in the private sector and academia, advising market participants, policy makers and institutions. Brunello is a member of the Chief Economists Advisory Board of the European Investment Bank and of the Advisory Board of the Ambassador of Italy to the UK. He is also Visiting Professor at the Department of Social and Political Sciences of Bocconi University (Italy), a Visiting Lecturer at the Department of International Politics and a research fellow of the City Political Economy Research Centre at City, University of London. At the LSE, Brunello is a Research Associate at the Systemic Risk Centre, as well as a practitioner lecturer in finance for MSc students and in macroeconomics for professionals undertaking executive education.
Hyun Song Shin (Economic Adviser and Head of Research, Bank for International Settlements). As the BIS Economic Adviser, Mr Shin co-leads the Monetary and Economic Department and is part of the Bank's senior management as a member of its Executive Committee. Mr Shin has a background in academia. Before he took up his current position in May 2014, he was the Hughes-Rogers Professor of Economics at Princeton University, having previously held appointments at Oxford University and the London School of Economics. He has been an intellectual leader in the fields of banking, international finance and monetary economics, topics on which he has published widely, both in leading academic and official publications. One area of recent focus has been in developing the BIS's research programme on digital innovation and the financial system, including the design of central bank digital currencies and their implications for users, financial intermediaries and the central bank.
Paul Sisnett (CEO and Co-Founder, Satellite Moving Devices Group). Paul Sisnett is the co-founder and CEO of SMD Group, whose paywith.glass fintech solution is powering the Project New Era Digital Sterling initiative in the UK. The paywith.glass infrastructure was designed in the belief that global financial inclusion must be a human right in the 21st century. The platform's mission is to usher in a new financially inclusive, currency-fluid era by providing the infrastructure that empowers every individual and every organization with the ability to transact instantly from anywhere on Earth, at any time - paywith.glass is 'the internet, for the world's money'.
Jean-Pierre Zigrand (Co-Director of the Systemic Risk Centre, Co-Director of the Financial Markets Group and Associate Professor of Finance at the London School of Economics). Dr. Zigrand's research interests are in the areas of systemic risk and asset pricing in which he has an extensive publication record. His teaching is principally in quantitative finance at MSc, PhD and executive levels. Dr Zigrand is the director of the LSE MSc Finance executive programme. He is a member of the Bank of England Bank's Macroprudential Panel - Market Subgroup and has acted as a consultant to private sector financial institutions, to the Luxembourgish Central Bank as well as to regulatory bodies, and is a member of the Institut Grand-Ducal in Luexmbourg. He has been a Lead Expert to the UK Foresight Team on the Future of Computer Trading.
#LSECBDCs